New Zealand Campervan Vacations – Holiday Destinations
New Zealand Campervan Vacations for Families and Couples
Tour New Zealand in a campervan and have total control of your holiday. With a campervan rentals from Kiwi Autohomes you can plot your own family holiday or follow our suggestions to ensure you see the best New Zealand has to offer.
When you rent a campervan, ours are fully equipped to give and your family the best New Zealand experience, whether your here for a short 1 week holiday or a 3 month family vacation.
Campervan Vacations New Zealand – Campervan Rentals New Zealand – Motorhome Hire New Zealand – Campervan 4wd
Please click on a destination below to see more details: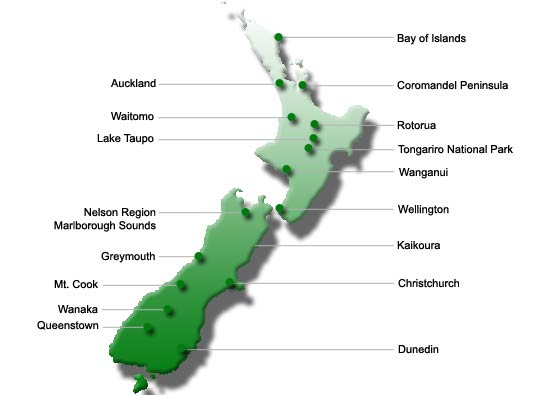 Auckland Campervan Holidays

Auckland, the largest city in New Zealand is known as the City of Sails. After your arrival in Auckland you will pick-up your campervan. At time of reservation you have selected your type of vehicle. You are free to hit the road and explore the beauties of New Zealand. Enjoy the breathtaking views of the City of Auckland, with its 62 dormant volcanoes. Auckland was built up by the pioneers in the last century, and is the largest populated Polynesian city in the world. Optional activities: Visit to Kelly Tarlton Underwater World, Waiheke Island, Sea Kayaking, Harley Bike Tours, Abseiling and Rap Jump, 4 Wheel Bike Tours, Horse riding on the Beach, Helicopter sightseeing and lunch on an island in the Hauraki Gulf. Campervan Vacations in Auckland, New Zealand offer many fantastic sightseeing opportunities.
Bay of Islands Campervan Vacations
Enjoy the scenic drive along the east coast of the North Island to the beautiful Bay of Islands. Find your paradise and explore the breathtaking scenery of the 144 islands. Optional Adventure program: Full day exciting sea kayaking tour with a professional guide who will take you out to the deserted Motumaire Island. Explore the historic Waitangi Treaty Ground and go up the Waitangi Estuary to the Haruru Water Falls. Before exploring the mystery mangrove forest you may spend time paddling under the waterfall. Swimming with the dolphins (conditions permitting). Optional activities: Cruising the Bay of Islands, explore 90 Mile Beach, Game Fishing, Scuba Diving, Jet-Ski Riding. Enjoy your campervan vacation exploring the beautiful Bay of Islands.
Coromandel Peninsula Campervan Holidays

You should spend two nights on Coromandel Peninsula, a rugged, densely forested region with some of the most beautiful beaches in the South Pacific. Rivers force their way through gorges and pour down steep cliffs to the sea. Optional Adventure program: 4 Wheel Bike Safari. Nature and Adventure Treks, Horse Trekking, Swimming with Dolphins.
Rotorua Campervan Holidays

On your way to Rotorua you will visit the Hot Water Beach. Explore this fascinating geothermal area with boiling mud pools, hot streams, spectacular geysers, and silica terraces. Optional Adventure program: Four Wheel Drive Tour to the summit of Mt. Tarawera which erupted in June 1886. Visit the geysers and hot mud pools of the thermal area of Whakarewarewa. Alternative: Rafting the Kaituna River which is rated grade 5+ with its 21 foot (7m) waterfall. Helicopter Flight into the crater of Mt. Tarawera, Hangi and Concert, Parachuting, White Water Rafting, visit Whakawerawera, Tarawera Off Road Adventure, White Island. Rotorua is fun spot for the whole family to enjoy your camper van hire in New Zealand.
Waitomo Campervan Holidays

Today adventure in Waitomo, a limestone area famous for its glow-worm caves and home of some of New Zealands hottest adventures – Abseiling. Optional Adventure program: 300 feet abseiling into Waitomo caves, Haggas Honking Hole, Black Water Rafting, Glow Worm Caves, Abseiling, Black Water Rafting, Caving, Lost World.
Lake Taupo Campervan Holidays

Taupo is the largest volcanic lake in the world. Full of Rainbow and Brown Trout it is a paradise for fishing. Taupo is a fantastic place for a campervan holiday with lots of beautiful places and scenery to enjoy.
Tongariro National Park Campervan Holidays

Visit the Tongariro National Park with its collection of dormant, still and active volcanoes: Mt. Tongariro, Mt. Ruapehu and Mt. Ngauruhoe. Established in 1887 it was the first national park in New Zealand. Optional Adventure program: Nature Walk or Tramping in the volcanic area.  Our camper rentals will take you right to the doorstep of some of the most amazing places in New Zealand.
Wanganui & Wellington Campervan Holidays

Midway between New Plymouth and Wellington we stop at Wanganui, an attractive coastal city on the banks of the Whanganui River. Drive along the scenic and historic Whanganui River Road on your way to Wellington, the capital city of New Zealand. This city is situated in a beautiful harbour at the southern tip of the North Island. In Wellington you may board the ferry to cross the Cook Strait to the South Island.
Nelson Region & Marlborough Sounds Campervan Vacations

After crossing the fascinating Cook Strait you head for Nelson, a pleasant, bright and active town. The surrounding area has some of the finest beaches in New Zealand. Optional Adventure program: Abel Tasman National Park Trekking, Sea kayaking, horse trekking, swimming with seals.
Greymouth Campervan Holidays

You are now on the wild West Coast. The best thing about this coast is its ruggedness – the narrow coastal strip is still very much untamed. Greymouth is an historic town with a long gold-mining history and it still has a bit of gold town flavour today. Optional Adventure program: Buller River Rafting Adventures and horse trekking, Shanty Town Franz Josef & Fox Glacier The two glaciers of the Westland National Park – the Fox and the Franz Josef – are among the most interesting sights in New Zealand. Nowhere else in the world, at this latitude, do glaciers approach so close to the sea. Adventure program: Glacier landing by aeroplane or helicopter, Guided Glacier Tours, Helicopter Flights, Mountaineering. The West Coast offers you a beautifully untouched campervan holiday with many sights to take in.
Wanaka Campervan Holidays

This town is nirvana for those seeking to combine the adrenaline buzz with fine living while over-indulging on scenery and the outdoors. Just over 100 kilometres from Queenstown, situated at the southern end of Lake Wanaka. Optional Adventure program: You go on an exciting acrobatic flight with a Pitts Special aerobatic plane or with a Tiger Moth. Other activities: Canoeing, White Water Sledging, Mace Town 4 Wheel Drive.
Queenstown Campervan Holidays

Queenstown is situated on the edge of beautiful Lake Wakatipu in what is surely one of the most scenic settings in the world. It is a playground for adventurers – you have a lot to explore! Optional Adventure program: Go Jet-Boating, then fly by Helicopter into Skippers Canyon and raft down the Shotover River and if you like you can go Tandem Skydiving with an experienced skydiver, Bungy-Jumping, Horse Trekking, Earnslaw Cruising, Helicopter Flights, Goldfield Safari, Tandem Skydiving, Paragliding, Mountainbiking, Mace Town Off Road Adventure, Off Road Motorcycling, Nature Walks.
Mt. Cook Campervan Holidays

Mt. Cook is, at 3, 755 metres, the highest peak in New Zealand and Australasia. Otpional Adventure program: Guided Walking, Helicopter Sightseeing, Trekking, Glacier-Snow Landings.
Dunedin Campervan Holidays

The most Scottish city in New Zealand at the east coast of New Zealand. Visit Larnach Castle and the Albatros Colony.
Christchurch Campervan Holidays

Christchurch is often described as the most English city in New Zealand. Adventure program: Whale Watching, Casino. Other activities: Ballooning. Departure from Christchurch by Air New Zealand.
Kaikoura Campervan Holidays

Kaikoura is the famous place to go whalewatching. Either by boat or by helicopter. Make your reservation early!
Campervan Vacations New Zealand – Campervan Holiday New Zealand – Camper Van Hire New Zealand – Campervan 4wd – Camper Rentals NZ